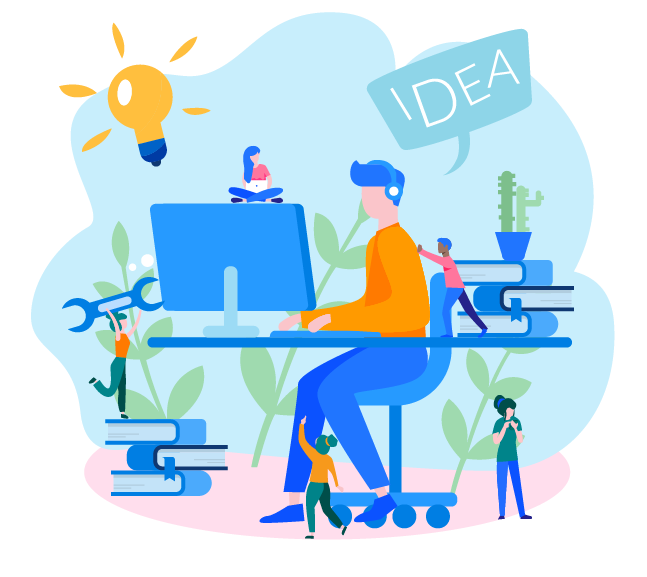 Web Development
Web development is a broad term for the work involved in developing a web site for the internet.Among web professionals,"web development" usually refers to the main non-design aspects of building web sites: writing markup and coding. We are a leading web development company offering high quality and cost effective web development services to organizations around the world. We have a state of the art web development centre in India where we constantly upgrade the skill levels of our resources so that professional levels of competency are ensured through our Services. A professional web development company, our key strength lies in effectual web application development in such languages as PHP, HTML and also develop in WordPress. Since our inception, we have been able to build a great number of stylish yet functional websites and portals for global clients.
Outdo system is a well known name in the field of web development and designing in the malwa region especially bathinda established in 2014. It has the team of experienced professionals who are expertise at handling complex projects with precision and ensure timley delivery to the client.Customer satisfaction is top priority for us.
A Web development process is a documented outline of the steps needed to be taken from start to finish in order to complete a typical Web design project. It divides and categorizes the work and then breaks these high-level sections into tasks and resources that can be used as a road map for each project.
It is the coding or programming that enables website functionality, per the owner's requirements. It mainly deals with the non-design aspect of building websites, which includes coding and writing markup. Web development ranges from creating plain text pages to complex web-based applications, social network applications and electronic business applications.
Web development oversees all the code that makes a site tick. It very well may be part into two classes—front-end and back-end. The front-end or client-side of an application is the code responsible for determining how the site will really show the designs mocked up by a designer. The back-end or server-side of an application is responsible for managing data within the database and serving that data to the front-end to be shown. As you may have guessed, it's the front-end developer activity that will in general offer the most cover with the web designer.
Web developers are those who turn the designs into a live website.They uses web languages and software tools to develop the design and functionality of a website. Notice, that developers are further split into two sub-categories; front-end developers, and back-end developers.Front-end developers is the connection between both web designers and back-end developers, as having a little knowledge of both, would allow a front-end developer to build a fully working website. A front-end developer is the one who builds the interface, and provides the layout as the interaction between the back-end of the website and the user.
Front-end developers use three main languages; Hypertext Markup Language (HTML), Cascading Style Sheets (CSS), and JavaScript (JS). With these languages, a developer is able to create a full-fledged website. From the main design layout, to inserting images, applying different types of typography and font families, implementing animations, the flow of different pages, form interfaces, and more.
Back-end developers are those who control the server data and requests. Usually a website requires back-end services if it contains dynamic data.A back-end developer then uses server languages such as PHP ,official sites web site language and writes database queries by using languages such as SQL or MySQL. Web developer's responsibilities at outdo system include building website from concept all the way to completion from the bottom up, fashioning everything from the home page to site layout and function.
Our Package
Bronze
Theme Design
Responsive Design
2 Home Page Samples
Number of Inner Pages 5
Contact Form
CMS
Banner Sliders and Dynamic Gallery
2 Emails
SEO Friendly
Google Map
Website Maintenance Free 15 Days
Payment Full Advance
Silver
Theme Design
Responsive Design
2 Home Page Samples
Number of Inner Pages 10
Contact Form
CMS
Banner Sliders and Dynamic Gallery
5 Emails
SEO Friendly
Google Map
Website Maintenance Free 15 Days
Payment 75% advance & 25% after development
Gold
Theme Design
Responsive Design
2 Home Page Samples
Number of Inner Pages 15
Contact Form
CMS
Banner Sliders and Dynamic Gallery
8 Emails
SEO Friendly
Google Map
Website Maintenance Free 30 Days
Payment 75% advance & 25% after development
E-Commerce
Theme Design
Responsive Design
2 Home Page Samples
Number of Inner Pages 20
Contact Form
CMS
Banner Sliders and Dynamic Gallery
10 Emails
SEO Friendly
Google Map
Website Maintenance Free: 30 Days
Payment 50% advance & 50% after development
Frequently Asked Questions