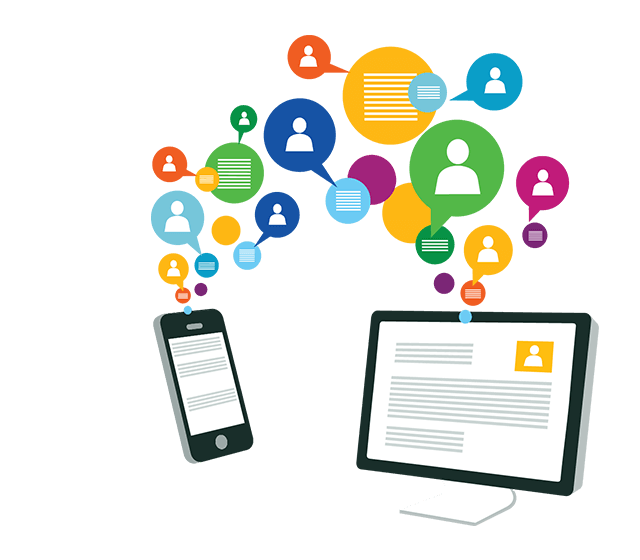 Bulk SMS
Bulk SMS is the process of sending a large number of SMS to different groups of people at different locations. They can be used to convey important information or used for promotional purposes. It is a very effective tool as SMS has a 98% open rate and is read within 5 minutes of delivery. Bulk SMS means it can deliver text SMS in one click to all over the mobile. We provide one of the best bulk SMS services in Punjab. By using our bulk SMS service, your SMS make it to the right target within a few seconds and you will get an instant reply for your service and product. Bulk SMS service is one of the most rising techniques used by many companies in Punjab.<br />
Some reasons which make Bulk SMS Services a responsive tool are:
1)Jet Speed –A message of any kind – Promotional or Transactional is sent within microseconds and is read quickly by the customers. The speed of deliverability benefits in the easy acquisition of a customer.
2) Low investment, maximum returns- Other advertising mediums such as television or online paid advertisements are very overpriced and expensive. It can be categorized as "out of budget tools of advertisement". However, Bulk SMS Services has a very high Return on Investment. Bulk SMS services can be initiated at a very low cost and your brand can reach millions of customers in no time.
3) Customer Convenience– A customer appreciates only those brands who respond immediately to their queries. Using other specific features of Bulk SMS API, SMS alerts can be set up and every query can be solved systematically.
4) Hits the right audience – Bulk SMS Marketing never keeps you dubious whether the sent message has reached the right audience or not. The folks or customers who accept your promotional SMS or other SMS are open to getting such info and might themselves have asked for such updates.
To create, build and maintain a relationship with the customer many industries are aggressively using SMS marketing to generate leads and sales. There are various groups from startup to small industry, startup to a large business and always trying to develop their services. If we considered a well-known approach of SMS service then it brings you more customer, as well as help out in build your relationships with your current clients. Bulk SMS Service Provider in Bathinda helping you in send SMS and grow your business easily.
Our Package
Promotional and Transactional Bulk SMS
Silver
10000 SMS
1 Year Validity
20 p. / SMS
Contact Upload through CSV, Excel, Notepad File
Gold
25000 SMS
1 Year Validity
18 p. / SMS
Contact Upload through CSV, Excel, Notepad File
Platinum
50000 SMS
Unlimited Validity
16 p. / SMS
Contact Upload through CSV, Excel, Notepad File
Super Saver
100000 SMS
Unlimited Validity
15 p. / SMS
Contact Upload through CSV, Excel, Notepad File
Promotional Open DND Bulk SMS
Silver
10000 SMS
1 Year Validity
20 p. / SMS
Contact Upload through CSV, Excel, Notepad File
DND + NON DND Delivery
HIGH PRIORITY ROUTE
OPEN TEMPLATE
OWN SENDER ID
Gold
25000 SMS
1 Year Validity
18 p. / SMS
Contact Upload through CSV, Excel, Notepad File
DND + NON DND Delivery
HIGH PRIORITY ROUTE
OPEN TEMPLATE
OWN SENDER ID
Platinum
50000 SMS
Unlimited Validity
16 p. / SMS
Contact Upload through CSV, Excel, Notepad File
DND + NON DND Delivery
HIGH PRIORITY ROUTE
OPEN TEMPLATE
OWN SENDER ID
Super Saver
100000 SMS
Unlimited Validity
16 p. / SMS
Contact Upload through CSV, Excel, Notepad File
DND + NON DND Delivery
HIGH PRIORITY ROUTE
OPEN TEMPLATE
OWN SENDER ID
Frequently Asked Questions