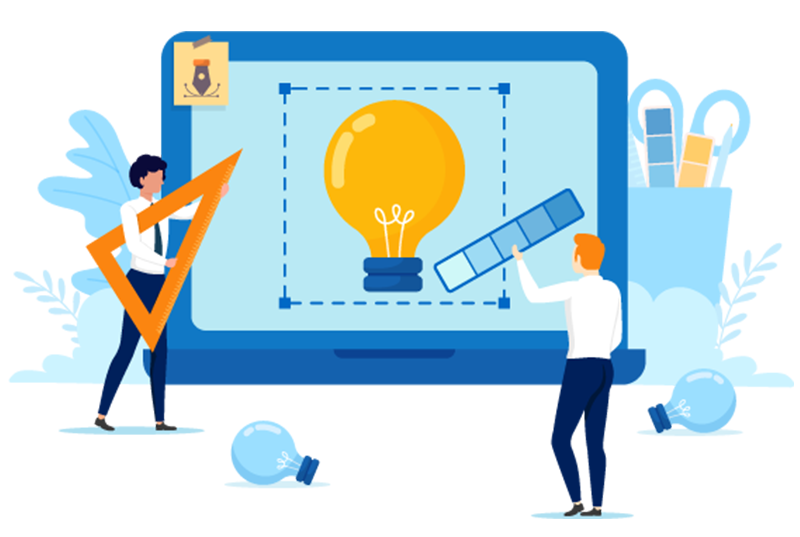 Logo Designing
Promoting a business on a variety of platforms requires a consistent brand image and tone. One of the most important aspects of establishing a brand's identity is the creation of its unique logo. A logo can be inferred as a symbol or emblem that conveys the company's vision to the audience. A well-designed logo can help any business make a lasting first impression easily. This is why a logo should never be overlooked. You have to hire the best designers for creating this symbol for your business if you wish to establish a unique brand identity.
Outdo Systems is a reputed logo designer in Bathinda with a team of well-skilled designers who are adept at using the most advanced technologies to create unique and innovative designs for our clients. A logo helps the audience identify a business and distinguish it from the others. It is thus critical to ascertain that your logo is consistent with your brand image.
Our process of logo creation extends beyond just creating a visual. It involves getting an insight into the type of work the client does and what message it wishes to relay to its audience. This is what our design strategy is based upon. Our objective is to enhance brand recognition and visibility for our clients through creative visuals that can be used across various mediums.
Interactive designs that help customers identify your business
Our Process of Logo Designing
Users can easily recognize a business through its logo even if they haven't got the name memorized. This is why having a well-crafted logo is considered such a huge deal. It occupies an important place in the proper branding of any business.
To create a unique logo design for any brand, it is important to understand the business in great detail and visualize their ideas through the design.
We undertake the following steps while creating unique symbols for various brands:
1. Understanding the requirements of the client, including the industry type, audience
2. Setting relevant goals
3. Draft an initial design
4. Gather feedback on this design from clients and the audience
5. Make the necessary changes
6. Delivering the final design
We take adequate time to understand the vision and tone of the client. We only begin the process of designing only after gathering considerable insight into the company and what it does. The feedback from the target audience also carries immense importance in the process. Outdo System has helped businesses and corporations of various scales to add innovative logos to their brand image.
Advantages of Logo Designing
Establishing a consistent image for the business across all platforms is one of the most important objectives of any company. We can help accomplish this by creating a logo design that conveys the company's vision and ideas to the audience. A well-designed logo can provide the followed benefits:
● Get a wider reach and attract new customers
● Helps businesses create a unique identity amongst their competitors
● Customized to meet your specific needs
● Maintain consistency with brand's name, image, and tone
● Earn the trust of the customers with professional logo designing
● Improved brand visibility
● Helps your business come across as reliable and true to its identity
If you are looking for a trusted logo designer near me, you do not have to look any further. With extensive experience in the industry, the team of professional designers at Outdo System can help craft a unique logo design for your business. We can help you make a lasting impression on the audience right from the first glance with the help of our unmatched designs. Our team uses the latest tools for creating the most appealing design that is reflective of your brand image.
Our Package
Stater
1 Concept
2 Revisions
Business Card Design
Turnaround 2 Days
100% Satisfaction
High Quality
Standard
High Quality
3 Concept
5 Revisions
1 Ad Banner Design
1 Digital Business Card Design
Turnaround 2 Days
100% Satisfaction
Professional
6 Concepts
Unlimited Revisions in logo
1 Ad Banner Design
1 Digital Business Card Design
1 Letterhead Design
1 Facebook Cover Design
Turnaround 24-48 Hour
100% satisfaction
High Quality
Frequently Asked Questions