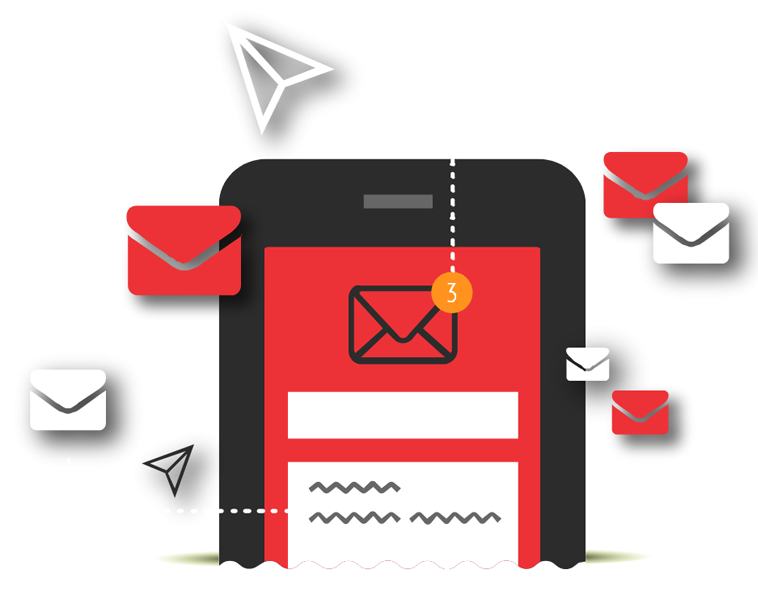 Bulk SMS
Bulk SMS is a marketing tool that businesses use to drive customer engagement. It involves sending thousands of messages to people randomly with just a click of a button. Sending such promotional messages in bulk has proven to be an effective marketing strategy for several businesses. If you require a Bulk SMS Provider in Bathinda, Outdo System has the most affordable packages to offer. These packages contain a varying number of messages that you can choose from as per your requirement.
Bulk SMS is an excellent way of updating customers, sending reminders, or confirming bookings. This is considered an economical way of promotion that not only helps generate leads but also strengthens the relationship with the customers. SMS marketing is so popular because of its high open rate. It is also read almost immediately, which means that it generates quick results. All of these factors have made this method of promotion quite popular. To ensure that your SMS gets delivered to a wide audience group that would be interested in your services, you need a reliable provider. Outdo System offers its services as a Bulk SMS provider at extremely reasonable prices at a quick speed.
Our Services
Businesses of all scales can benefit from this Digital market promotion strategy by reaching a wider set of customers. Some of the services that are included in our SMS marketing plan include:
● Analytic support
● Real-time and scheduled deliveries
● Affordable packages
● Unlimited validity
● Low per message cost
● Send message one by one or in bulk
Advantages of Bulk SMS
1. Immediate results: The messages can be delivered to a large number of people in a very short amount of time. This speed of delivery generates quick and positive results for the business.
2. Low investment: Unlike most methods of advertising that require huge investments, SMS marketing is extremely cost-effective and has a great ROI. your business can reach a large number of people with very low investment in no time with the help of bulk SMS.
3. Connect with the users: Messages can help establish a communication channel for businesses to connect with their audience.
4. Respond immediately: Through SMS API, businesses can reach out to customers and solve any query related to their product or service almost instantly. This helps in strengthening the customer relationship and bridging any communication gap between the two parties.
5. Customize the SMS: The SMS can be transactional, promotional, or just a reminder. You get to decide on the tone and the customization of the message as per your requirements.
6. Reach the right audience: You can reach the relevant audience by targeting a large group of people. Bulk SMS is a proven solution for generating more traffic and getting reliable outcomes.
7.Get high-quality leads: Generating high-quality leads is easier with the right marketing strategy. You can reach out to people instantly and get a positive response.
Outdo System is a reliable and secure Bulk SMS Service in Bathinda which allows enterprises to send customized SMS to a large number of people with just the click of a button. You can not only get access to new customers but also improve your retention rate of existing customers with the help of this bulk SMS service.
You can track the success of your marketing campaign with our assistance. The process is quick, efficient, and reliable. The packages that we offer are highly affordable and offer several other benefits to the clients. If you wish to expand your business and take it to new heights, you should partner with us.
Our Package
Promotional and Transactional Bulk SMS
Silver
10000 SMS
1 Year Validity
20 p. / SMS
Contact Upload through CSV, Excel, Notepad File
Gold
25000 SMS
1 Year Validity
18 p. / SMS
Contact Upload through CSV, Excel, Notepad File
Platinum
50000 SMS
Unlimited Validity
16 p. / SMS
Contact Upload through CSV, Excel, Notepad File
Super Saver
100000 SMS
Unlimited Validity
15 p. / SMS
Contact Upload through CSV, Excel, Notepad File
Promotional Open DND Bulk SMS
Silver
10000 SMS
1 Year Validity
20 p. / SMS
Contact Upload through CSV, Excel, Notepad File
DND + NON DND Delivery
HIGH PRIORITY ROUTE
OPEN TEMPLATE
OWN SENDER ID
Gold
25000 SMS
1 Year Validity
18 p. / SMS
Contact Upload through CSV, Excel, Notepad File
DND + NON DND Delivery
HIGH PRIORITY ROUTE
OPEN TEMPLATE
OWN SENDER ID
Platinum
50000 SMS
Unlimited Validity
16 p. / SMS
Contact Upload through CSV, Excel, Notepad File
DND + NON DND Delivery
HIGH PRIORITY ROUTE
OPEN TEMPLATE
OWN SENDER ID
Super Saver
100000 SMS
Unlimited Validity
16 p. / SMS
Contact Upload through CSV, Excel, Notepad File
DND + NON DND Delivery
HIGH PRIORITY ROUTE
OPEN TEMPLATE
OWN SENDER ID
Frequently Asked Questions